23 Jul

Customer Service in Translation – 10 Points to Take Care of

(Last Updated On: August 2, 2019)

Customer Service in Translation - 10 Points to Take Care of

There is nothing more important for service providers than the opinion of their customers. And the opinion of their customers will depend on the quality of the service they are providing. This is why it is very important for companies to keep their customers happy at all times. If the people a company is trying to help with its services but they are not satisfied with the help they are getting, they will not come develop a lifelong relationship with the service provider. Although it is the most important aspect, good quality work isn't the only thing required to keep people happy with your brand.

The relationship between companies and their customers also rely heavily on the type of customer service the former is providing to the latter. The translation industry is no different from other service industries. Good customer care is as important in translation as anywhere else. If you are wondering how to do customer service right in translation, here are the ten points you should take care of:
1. Don't Be Impatient:
A lot of times, the clients who reach out to you will be people who have never dealt with translation service providers before in their lives. They will be confused and have many questions. They may need the interpretation for an official task and therefore will be anxious to get everything right. As a result, they will have many reservations and will have to be reminded again and again that they can trust professionals with the job. It is the duty of the client care representative to be patient with them. Answer all of their questions calmly and don't lose your patience just because their confusion isn't letting them understand you properly.
2. Be Attentive:
When talking to potential clients, it is important to note down everything in great detail. They will include all the details about the work they require in their chat. If you don't pay attention, you can lose valuable information and may not be able to get in touch with them again until after the deadline. Listening attentively can also erase the chance of any confusion regarding the translation. Also, if you listen to them carefully, they will understand their importance and as a result continue to choose your services in the future too.
3. Don't Forget Your Manners:
Dealing with potential customers can be exhausting and you may want to scream in frustration because you are human after all. But client care requires extra patience and politeness. If you don't behave nicely with people, they most likely will go somewhere else. A lot of times, the first impression proves to be the last when it comes to companies and service providers. You should talk politely to both potential customers and those who have already received their translations. Because in either case, you will be promoting your company by being nice.
4. Don't Be Ignorant About the Services:
When people reach out to you, it will mostly be because of any questions they have regarding translations. Which is why as a customer care representative, you should know all there is to know about the services you are providing. What language translations your company is offering and what are the regular charges are just a couple of examples of the type of questions you can face. You should know the answers to all such questions so people don't have to turn elsewhere to find them.
5. Listen and Read:
Listening to customers is half the job, reading their body language or their tone when they are talking to you on the phone is equally important. If they are stressed, you must try to calm them down and assure them that their task will be handled professionally. If they are in an emergency situation, you must make sure to tell them about urgent translations.
A lot of companies ask people how was their experience with the customer care representative after a chat or phone call. This system helps analyze the performance of different representatives and improve their work if necessary. You can also send people survey to learn more about what they think of you.
7. Provide Training:
Customer care representatives need regular training to teach them not only how to engage with clients but also improve their knowledge about the services and make them more useful for the people they help every day. Training is important for everyone but it is necessary for new recruits.
8. Understand Their Problem:
Sometimes a person may not be aware of the type of translation they require. In such a situation, it will be up to the client care representative to help them understand the problem they are facing and guide them about the type of translation they need. This way, you will also be able to guide them towards the right translation expert.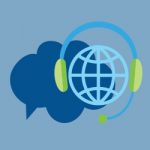 9. Offer Multilingual Support:
A translation agency deals with multiple languages so it is only befitting for them to have customer care representatives who speak different languages. Hire native speakers so they can understand the clients from their area better than anyone else.
10. Guide Them:
Coming across a client who don't know their way around a computer is more likely than you think so always be ready to guide them. It is up to you to help them understand how to utilize the services you are offering.
A customer service that takes care of the basic things mentioned above will be successful in winning the hearts of everyone who reach out to them.